Sales & Leasing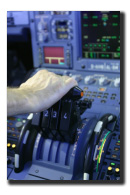 GC Aviation continues to specialize in originating, structuring, arranging and managing aviation-focused, asset-based and project-based financing and acquisitions. With a strong management team of professional aviation sales and technical expertise, we perform:
Aircraft Sales:
Listing and Marketing of aircraft and engines thru the
closing/delivery process.
Leasing:
Aircraft and Engines, long term and short term leasing,
specializing in developing the entire process from initial contact,
utilization studies, creditworthiness review, lease structure
to final contract and delivery.
Aircraft Financing:
Structured debt, asset based and equity based loans for
aircraft purchases to airlines and operators. Occasionally
syndicating or partnering the risk with other lenders
aircraft lending, GCA provides various structures to
their clients.